Everything's Fine. Is it really?
The Everything's Fine Co. was founded in 2020 to spread a little light during an unprecedented dark time. We're guided by the strong belief that a good attitude is a powerful pathway to inner peace. The world outside may be chaotic and uncertain, but moments of serenity are at your fingertips. Light a candle, come to your senses and - even if just for a moment - Everything's Fine.
Are all of your products organic, vegan and non-toxic?
Yes, yes, and yes. We use 100% soy wax, essential oils and high quality fragrance oils, free of sulfates and phthalates. Everything's Fine candles are all-natural, cruelty free and made with a lot of love.  
Handmade, for reals? Explain.
Our candles are hand-poured in ultra small batches with an obsessive attention to detail and craftsmanship. We pour, polish, trim, label and ship every candle from a little garage in Silver Lake, a sunny east-side neighborhood of Los Angeles.
What are the Greek letters at the top of the label?
Glad you asked! ΟΛΑ ΚΑΛΑ, pronounced "ola kala," is Greek for Everything's Fine or "all good". It's a nod to our founder's Greek heritage and love for her grandparents (Mike and Mena), who instilled in her a positive outlook and joy for life's simple pleasures. Opa!
---
How long does shipping take?
All orders are carefully packed and shipped out within 2 business days. Shipping options and times are provided at check out.
How is shipping calculated?
Shipping rates are directly calculated by the shipping provider based on your address, the weight of the package and how fast you want it. We do not upcharge. In fact, as a small business, we recieve shipping discounts from USPS and UPS. Those savings are passed on to you.
How do I get free shipping?
All orders over $50 ship for free! Follow us on @everythingsfineco or get on our email list for updates on additional free shipping promos and sales.
Can I return or exchange my order?
Please contact us if you are unhappy with your order. We're a small business with a personal approach to customer service. If you want to return/exchange your candle, please contact us within 7 DAYS of your purchase and be sure to save the shipping box and packaging. We take extra precaution packing each order to prevent breakage. If candles are sent back broken, we cannot give a full return/exchange.
Will the pandemic affect my order?
So far we've been very lucky and are able to get your orders out 2 business days after purchase. While we can't control USPS or UPS shipping delays, we're super grateful for our neighborhood postmen, Greg and Sergio, who work day after day making sure your orders get delivered on time!
---
How do I prevent my candle from tunneling?
Great question! Allow the wax to melt to the full diameter of the vessel on the first burn. This should take 2-3 hours. Candle nerd-alert: Soy wax has a memory. It will only melt as far as it did the first time. This is why the first burn is key to tunneling prevention.
Should I trim my wicks? Why?
YES. Wick trimming may be the most important discipline for a long lasting, well manicured candle. Here's why: If the wick is too long, it will make a bigger flame, causing the wax to burn faster, leading to a shorter candle life. Untrimmed wicks can also cause sooting (that dark smoky substance on the inside of your vessel). Trim wicks to 1/4 inch before each use. Promise it's worth it. See our Candle Care page for more information.
How do I burn my candle safely?
Check out our Candle Care page for all the info you need to burn your candle safely. Here are the basics: Do not burn for more than 4 hours at a time. Once extinguished, wait 5 hours for wax to cool before lighting again. Discontinue use when 1/4 inch of wax remains. Never leave your candle unattended. Burn within sight. Keep away from children, pets, kids, water/liquids and drafts. Be sure to trim your wick to 1/4 inch before each use. Keep wax pool free from foreign objects such as wick trimmings, debris and dust.
What do I do with my empty candle vessel?
Reuse it! Empty vessels make great vases, pencil holders and planters. We've even seen a chic toothbrush holder! Take a pic of your repurposed vessel and tag @everythingsfineco to recieve a 10% discount on your next order. If that's not your thing, please recycle.
Handmade, for reals though.

---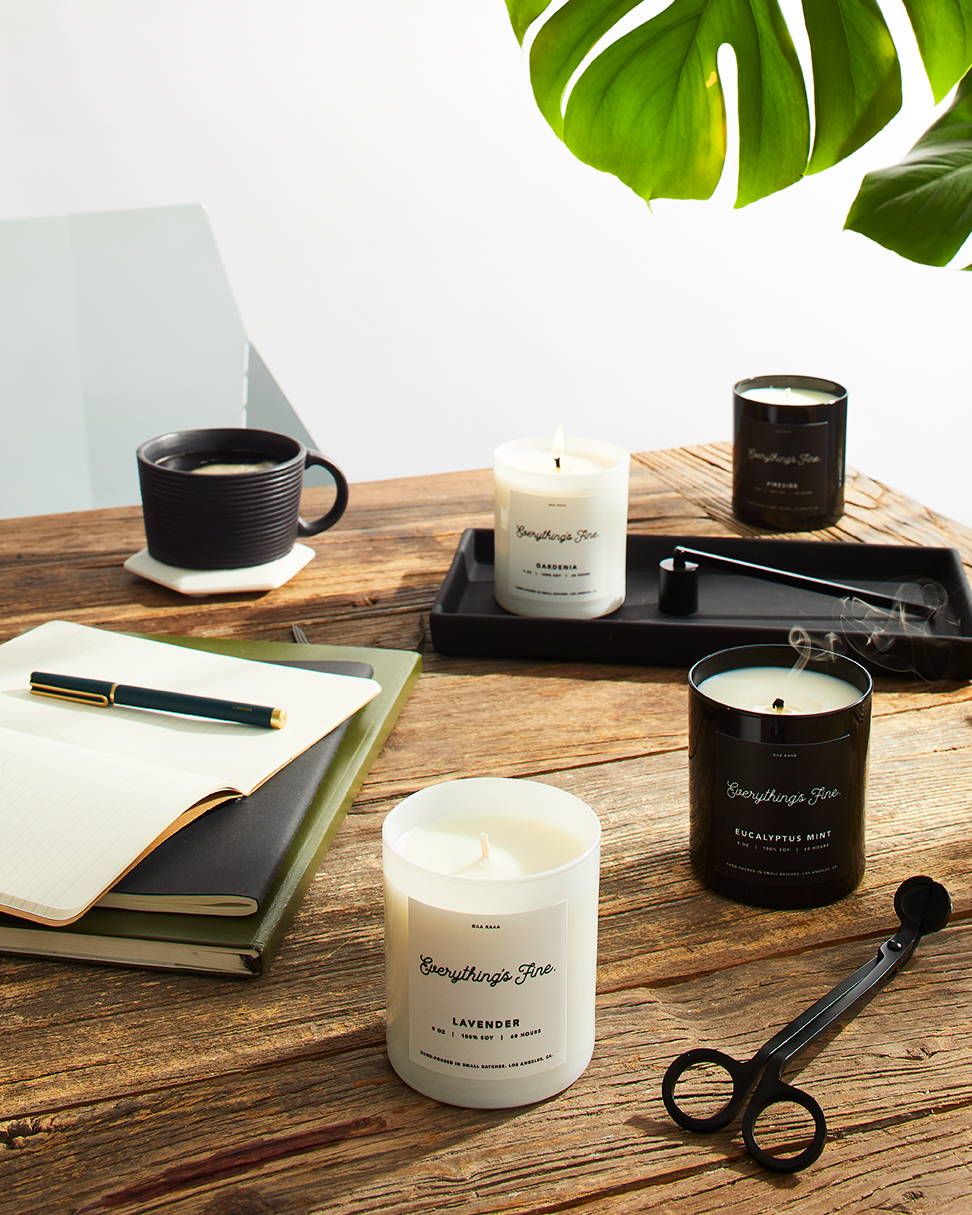 Perfect for corporate gifting and special events, we offer a wide variety of options and tailored pricing on large orders. Drop us a line for more info!
Perfect for corporate gifting and special events, we offer full customization and tailored pricing on large orders.